meet our client
meet our client
A skincare platform that provides effective products with advice & treatments in the comfort of your home, so you don't have to travel. a goal to revolutionize the beauty industry by the introduction of safe, convenient, and expert-backed solutions for all skin-related problems.
skinnsi's vision
Skinnsi's vision is to be able to provide services to all to help them be aligned with their goals at all times.
skinnsi's vision
To induce confidence and provide better aesthetics to the masses through a disruptive but a natural way of skin correction.
challenges
challenges
01
How can we increase customer attraction and retention to make Skinnsi accessible to all ?
02
How can we ensure customers feel confident to take a free trial for something as sensitive as their skin ?
our process
our process
Understand
Domain understanding
Brand understanding
Research
Analyze
Personas
User journeys
Empathy map
Create
Existing website study
Information architecture
Wireframes
Design
Wireframes
Style Guide
High fidelity screens
understanding
understanding
Customer Segmentation
Beauty addicted
Beauty expert
Traditional consumer
New entrant
Willing to take an extra step for self care
Those who believe that life has a lot to offer, bold confident and individualistic
Craving intimate connections, wanting to look good
Customer Pain Points
research
research
Quantitative Analysis
Goal
To quantify attitudes, behaviours, and other defined variables – and generalise results from a larger sample population.
How?
Use the data from Google Analytics and competitor analysis which will then formulate facts and uncover patterns in research.
Quantitative Analysis
Goal
To gain an understanding of underlying reasons, opinions, and motivations which will provide insights into the problem or help to develop ideas or hypotheses.
How?
Through User Interviews, Personas, User Journeys and Heuristic Analysis.
Existing Skinnsi approach
1
Product Introduction
What
2
Education On The Treatment
Why
3
Testimonials
How
Problems with this approach:
Skinnsi users need to be well informed of the why before what.
Too much text may not be very engaging for the user and its only for those who manage to stay in the website till here.
Existing testimonials not impactful enough
Existing Skinnsi approach
1
Concerns Faced By The User
Why
2
How Does Skinnsi Solve The Problem
What
3
Testimonials
How
Benefits of new approach :
It's always good to give context to the users and build their trust
Helps in providing confidence for new users especially because its a product to be use on ones skin
wireframes
wireframes
Our team crafted these hi-fidelity wireframes once the UX strategy was ready and converted them into a clickable prototype.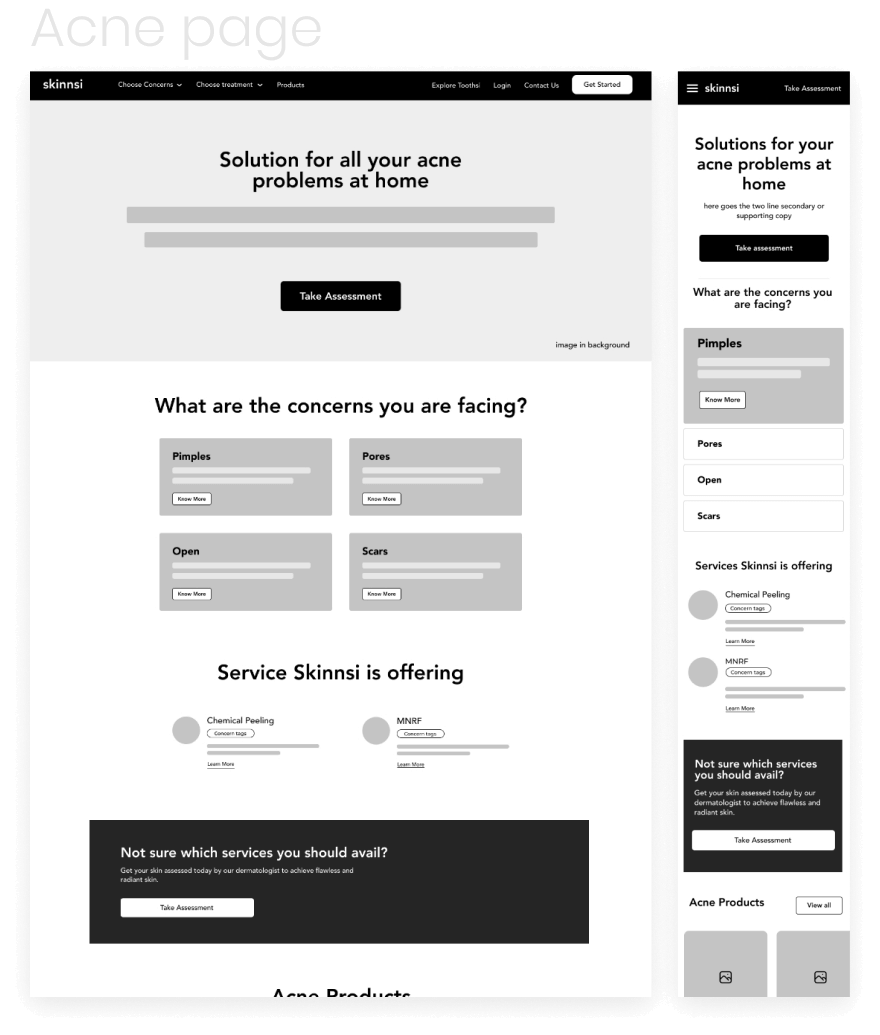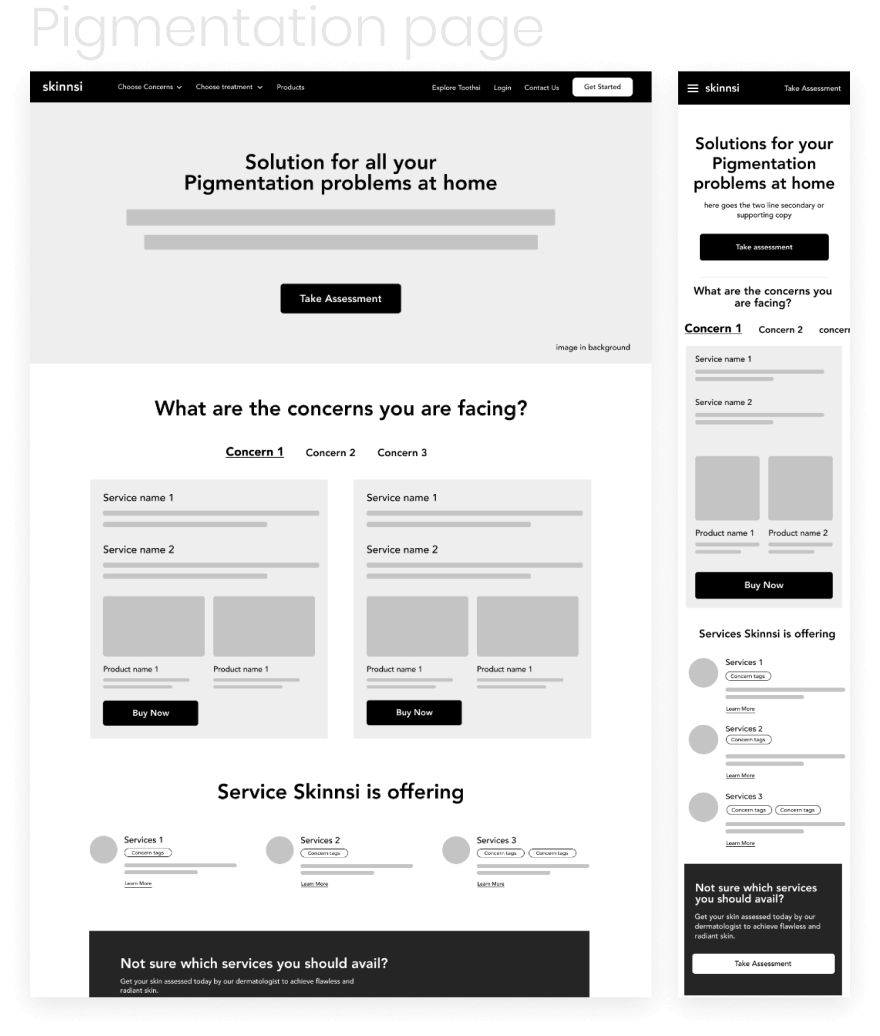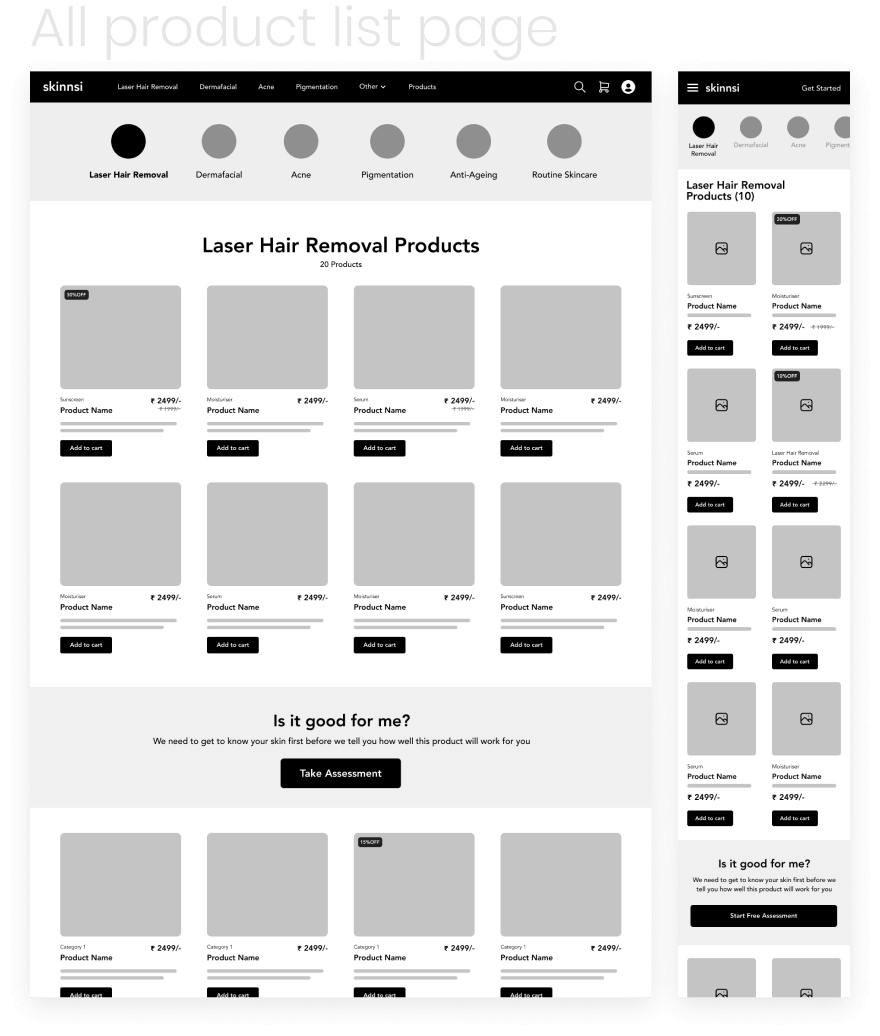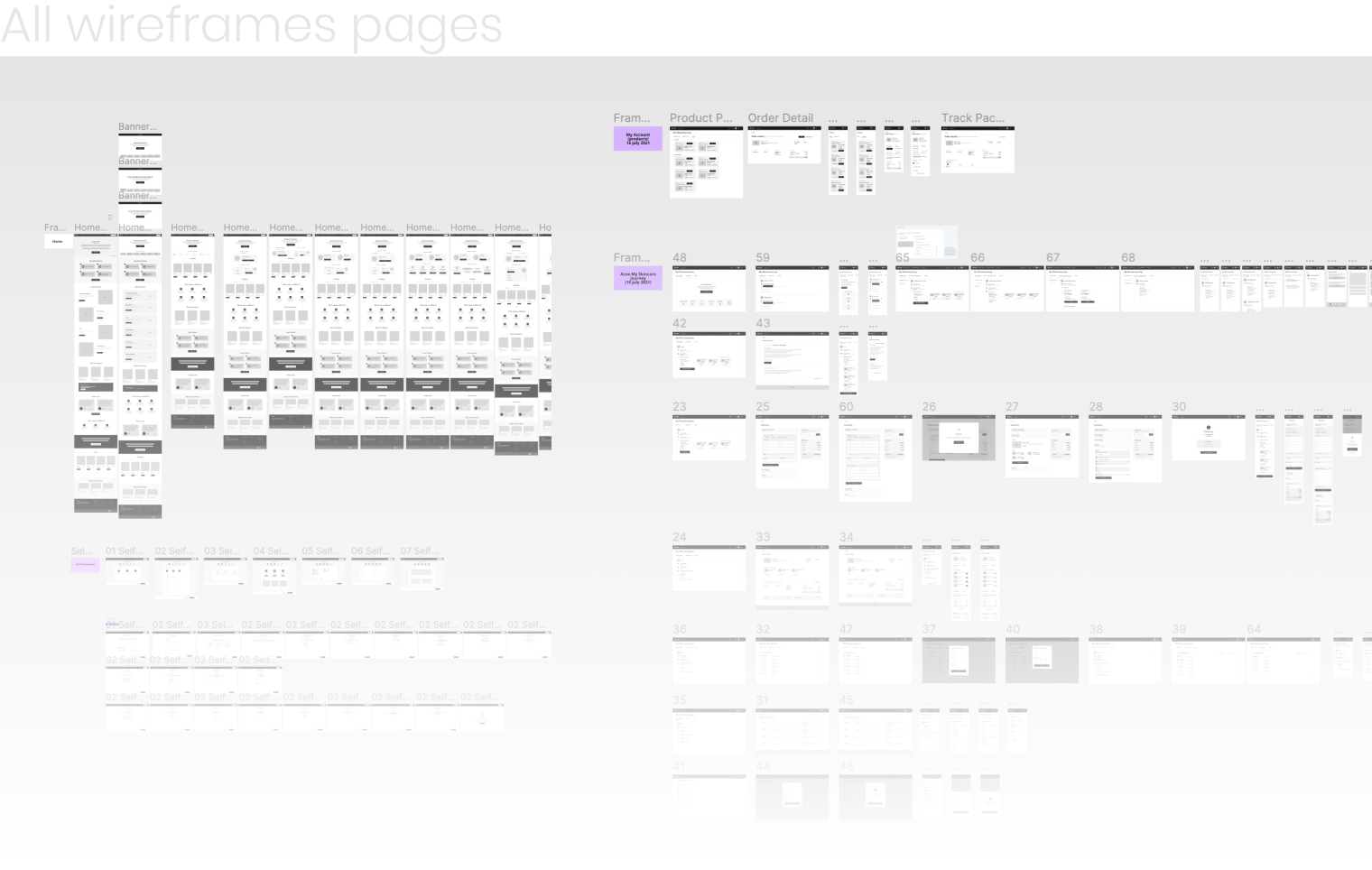 style guide
style guide
user interface design
user interface design
Keeping the story as well as contextual delivery of information was important. Compliance with the visual language guided the development of the final screens.
main home page

service card
main service card design
The service card's design keeps up with the clean and minimal appearance of Skinnsi. With two CTAs to prompt the user to either delve deeper or proceed with booking an appointment, the cards make for an effective communication tool. They give the user a preview of what services Skinnsi provides without being too content heavy.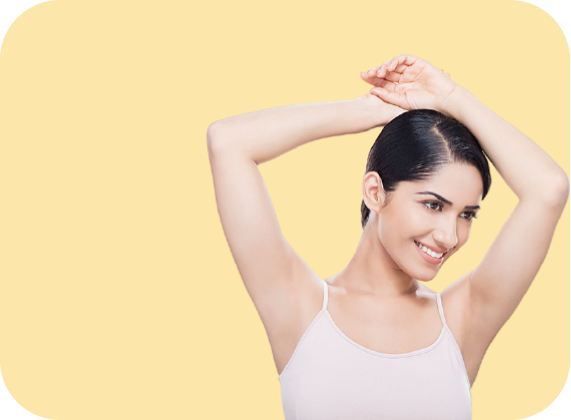 laser hair removal
We remove 90% of unwanted body hair. It's permanent. It's painless.
Learn More
get started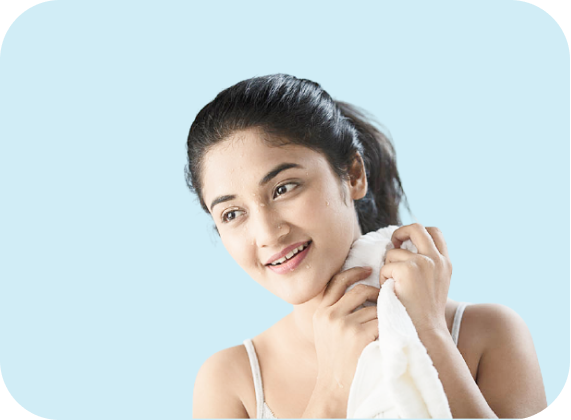 hydra-facial
Deep cleansing. Exfoliation. Nourishing. Skin Tightening. Experience a facial designed.
Learn More
get started
service card
other services card design
Bearing in mind the different services provided by skinnsi, the other responsive service cards were designed to deliver information in intervals at the user's pace. The hover action expands the card to show more information and a CTA that leads them to the next screen.
products card
products listing card design
The product listing keeps the clean visuals with information about the products and a CTA taking them to the product page for more details. The highlighted text gives more context to the product and assigns said product to a service that skinnsi provides.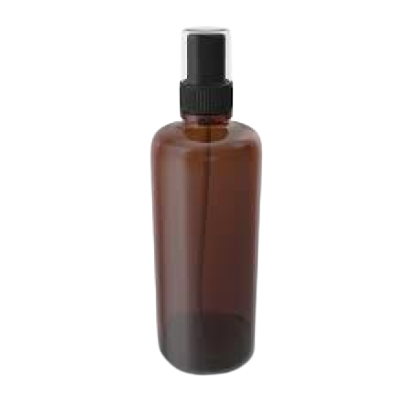 laser hair removal
HA & Vitamin C Skin Gummies
Add to cart
new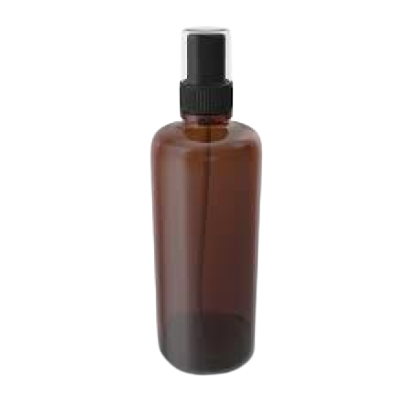 laser hair removal
Biotin Hair Gummies (60)
Add to cart
superstars
skinnsi superstars
This section highlights the big three who run Skinnsi with impacting images, their names, designations, specializations and how they may be contacted. All relevant images have solid colours from the palette creating visual consistency and a memorable brand for Skinnsi.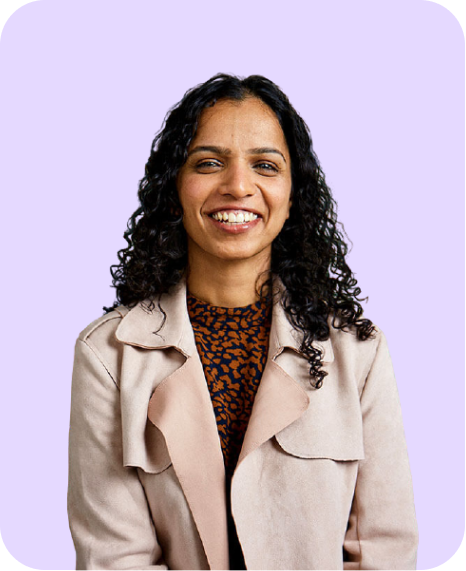 Ms. Naina Parekh
Sr. Dermatologist
Acne Specialist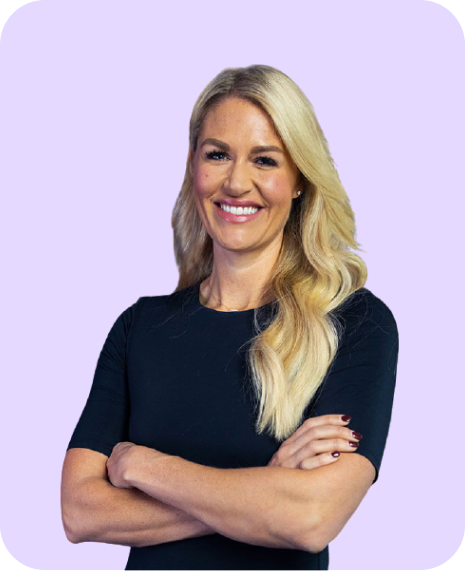 Ms. Avatara Devgan
Sr. Technician
Laser Hair Removal Expert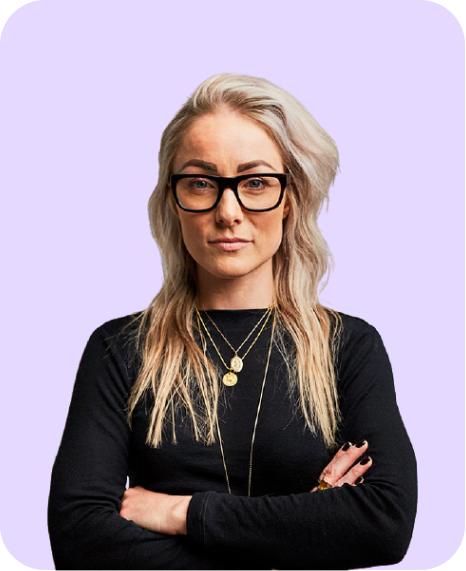 Ms. Anila Singhal
Sr. Technician
Laser Hair Removal Expert
conclusion
For this project, brand research, market research and a comprehensive evaluation of the users helped the company build a trustworthy product. In addition to this, the consistent design language helped shape customer's perception about a company, build loyalty and trust, and make a brand memorable.