Who is y-axis?
Y-Axis is India's No.1 overseas career consultant, It provides individuals a dynamic, global environment to live up to their potential. Established in 1999, As part of their services, they provide personal one-on-one counselling to about 40,000+ individual inquiries every month for migration, study and work visas.
Mission
To create Global Indians.
Vision
To become the most recognized HR brand in the world.
Values
4 Core Values are: Learning - Integrity - Fast - Emapthy.
Project overview
Rethinking the earning manager dashboard and Building scalable solution with a design system. Bringing simplicity and making delightful experience to all the personas.
Duration
12 weeks
Features
10+
Platforms
Web, Tab
What is earning manager?
Every year, Y-Axis pays out nearly 30% of its profits as employee bonuses.
Ignite the competitive spirit of sales team by enabling them to see how they fare against their peers through rank list, target tracker, live scores, and earnings.
Ranking list makes user to achieve targets, foster healthy competition to keep teams motivated and delivering beyond expectations!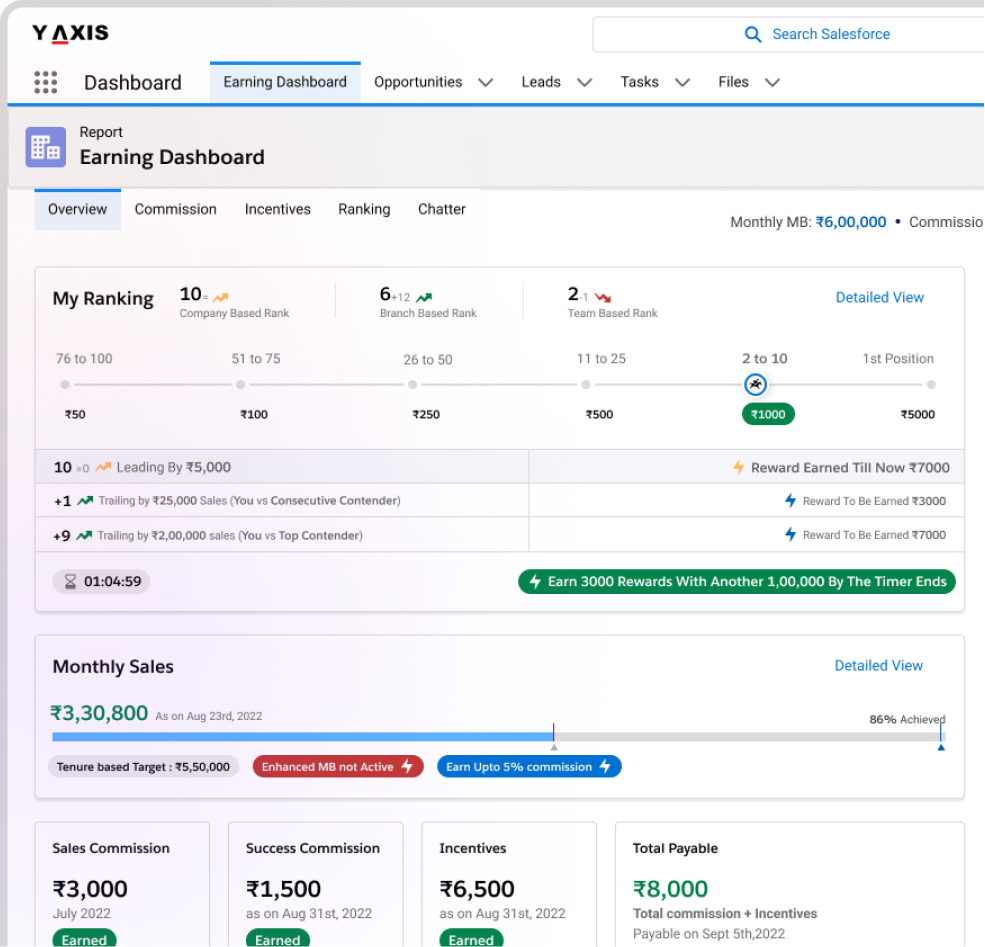 Problem statement
1 Scalability
Y-axis has more earnings data of their employees. Our major concern is to build highly scalable solution capable of handling any kind of information data, without compromising future.
2 Visibility
Defining visual hierarchy to improve the readability. And Guiding them through a series of tasks with easy interactions. Also Indicates what possible actions are available to them.
3 Design system
Y-axis has more modules without design system, so the brand language is missing out. It slow down the product development speed and lead to higher cost.
4 Time consume
Y-axis has 4000+ employees across multiple location. Manually tracking commissions, target and rank of employees in excel sheet consumes more time. which is complex to do.
5 Data
Tracking earning histories and commissions transactions for N number of personas are complex to handle. Need to improve the accessibility.
Our Approach
How we improved experience for Y-axis's earning manager dashboard to help consultants and other personas to track their performance based commission activities.
Business goals
To increasing sales, motivate consultants and team by providing commissions to recognise their sales achievements with automated performance tracking tool. And bringing more transparency / visibility to the ranking system. Which makes the sales team to perform better with healthy competition. Ensure that the system is consistent across all the Y-Axis modules.
Solution
Earning manager dashboard will have more information like tables, graph and cards, etc. Build a scalable solution by applying Sales force's lightning design system to bring scalability, readability and consistency. Which will help to load more information data in the dashboard in a minimal way. And approaching in a futuristic way will help Y-axis for their future product development.
Lightning Design system
To keep consistency across all the y-axis modules we followed Salesforce's Lightning design guidelines. It includes the resources to create user interfaces consistently and saves our time. Lightning design system is scaleable for enterprise softwares.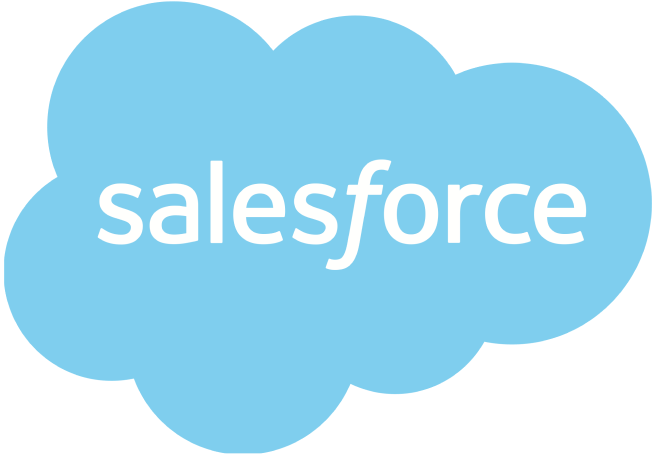 Persona Hierarchy
Each personas has different dashboards based on their role. For example Indvidual consultant's dashboard shows indvidual contribution, earnings and competitors. i.e. Branch manager could view team contribution, earning and team competition.
Earnings Manager
New Incentive manager
Reporting
Budgeting
E-manager feature
Sales Manager
All Time Modules

Sales Manager

Incentive & Features
E-manager features
Branch Manager
All Time Modules

Branch Manager

Incentive & Features
E-manager features
Team Lead
All Time Modules

Team Lead


Incentive & Features
E-manager features
Main features
Earning manager dashboard has multiple features. Major Features are earnings overview, commissions, rankings, enhance MB (Minimum Billing) and weekly incentive tracking
Earnings overview
The earnings are the extra commissions to the consultant. It will push them to perform well and bringing more productivity.
The progress bar helps consultant to track their performance. This makes them to achieve sales targets timely.
Offers: By providing offers, consultants gives productivity in the festival time.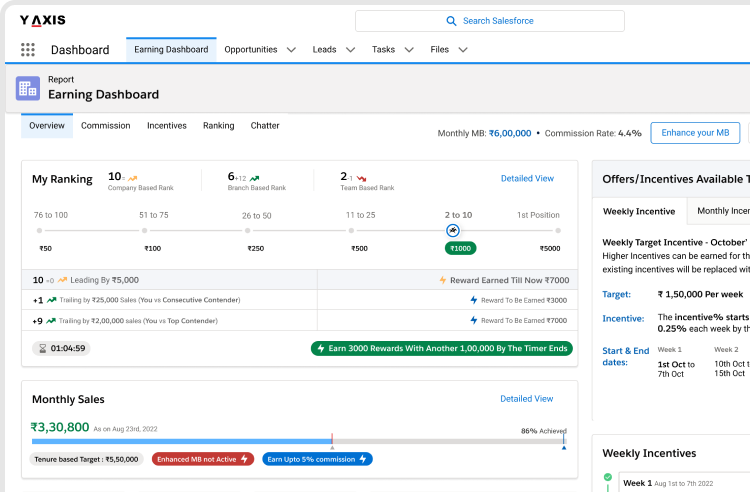 Enhance Minimum Billing (MB)
The concept of enhance MB is to make the consultants work more after achieving their standard targets. After enabling enhance MB, the target and commission percentage will be increased.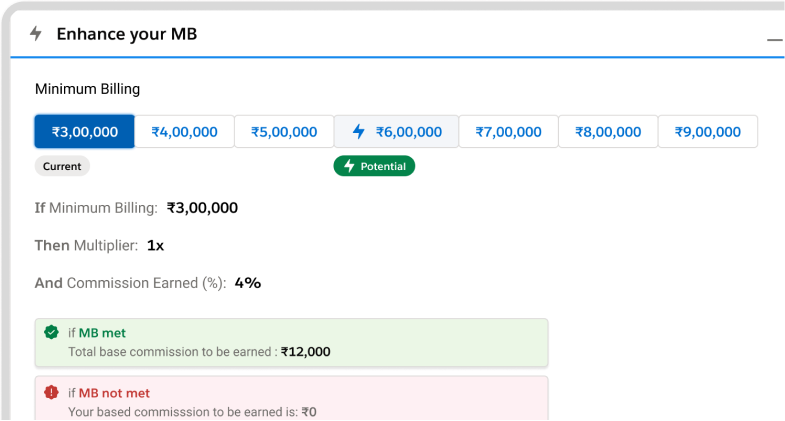 Commissions overview
This section helps consultants to track their sales, success and payable commissions for achieved sales targets. They will act accordingly towards work with this data.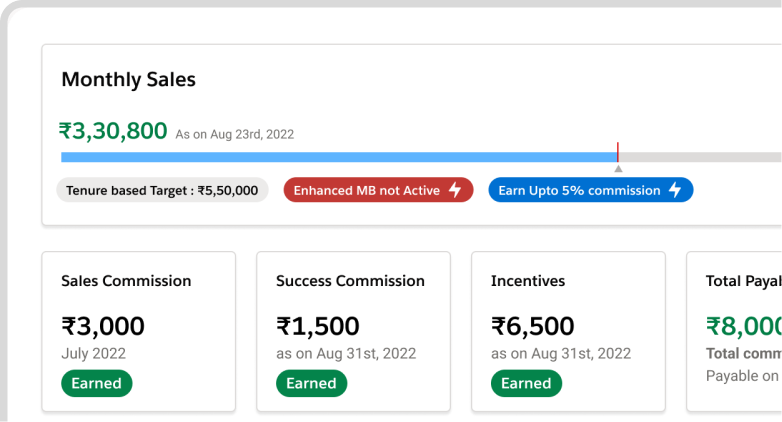 Ranking
This section shows the rank of the consultants based on their target achievements.
The clear visibility and transparency on the ranking system, creates healthy competition among the consultants / teams, and improves their productivity.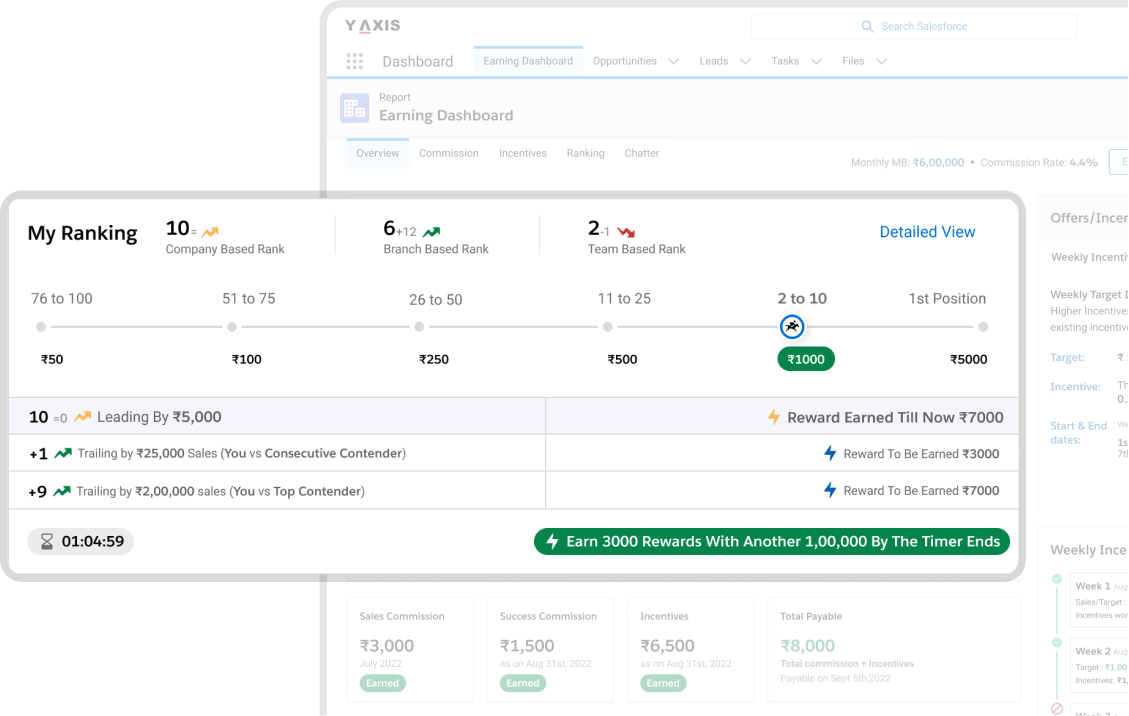 Elements from earning manager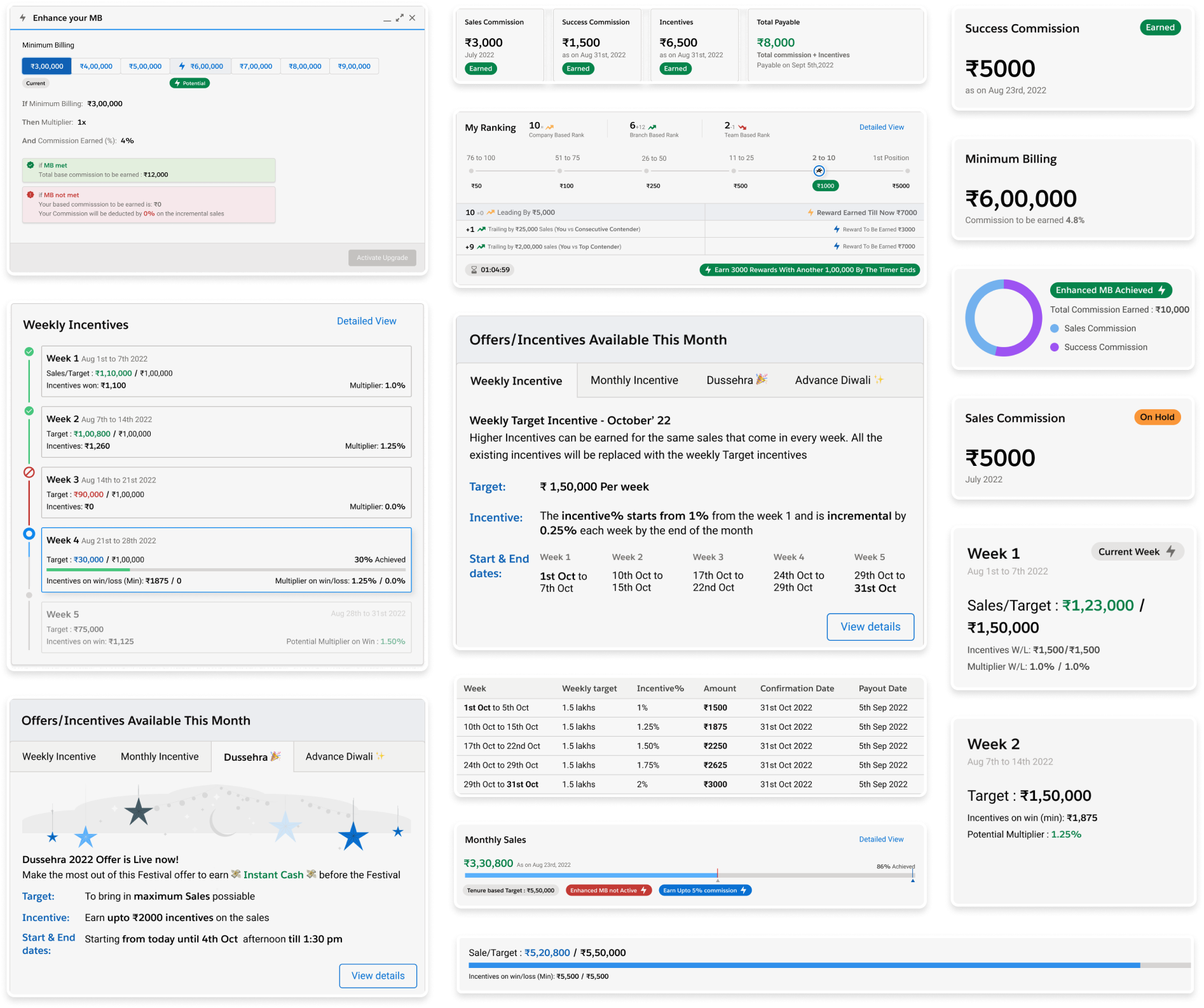 Visual design & deliverable
Earning Manager Dashboard
This is the revamped earning manager dashboard.
Ranking information
Monthly sales tracker
Monthly sales tracker
Commission details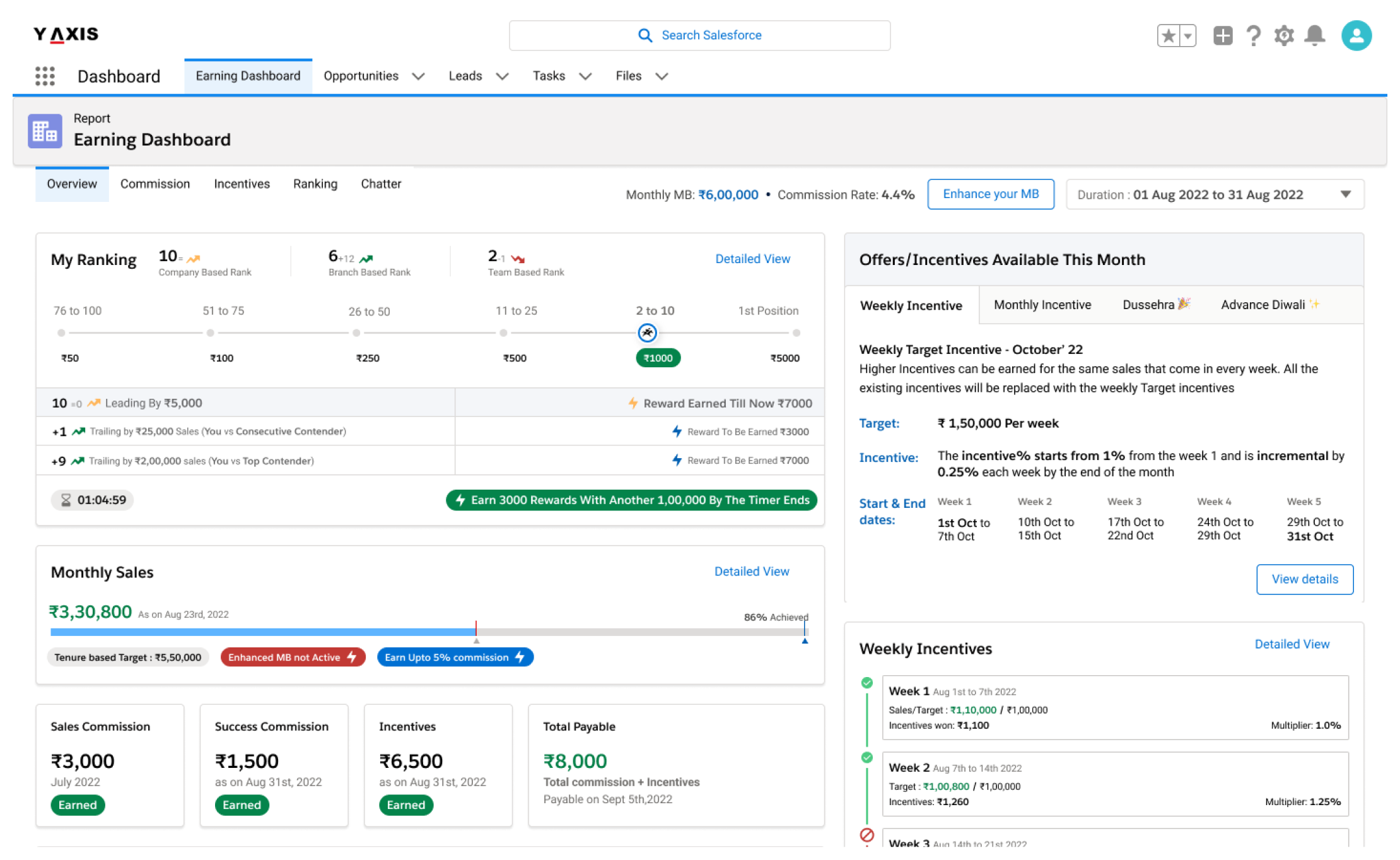 Weekly incentives informations
Enhance minimum billing
Weekly incentives tracker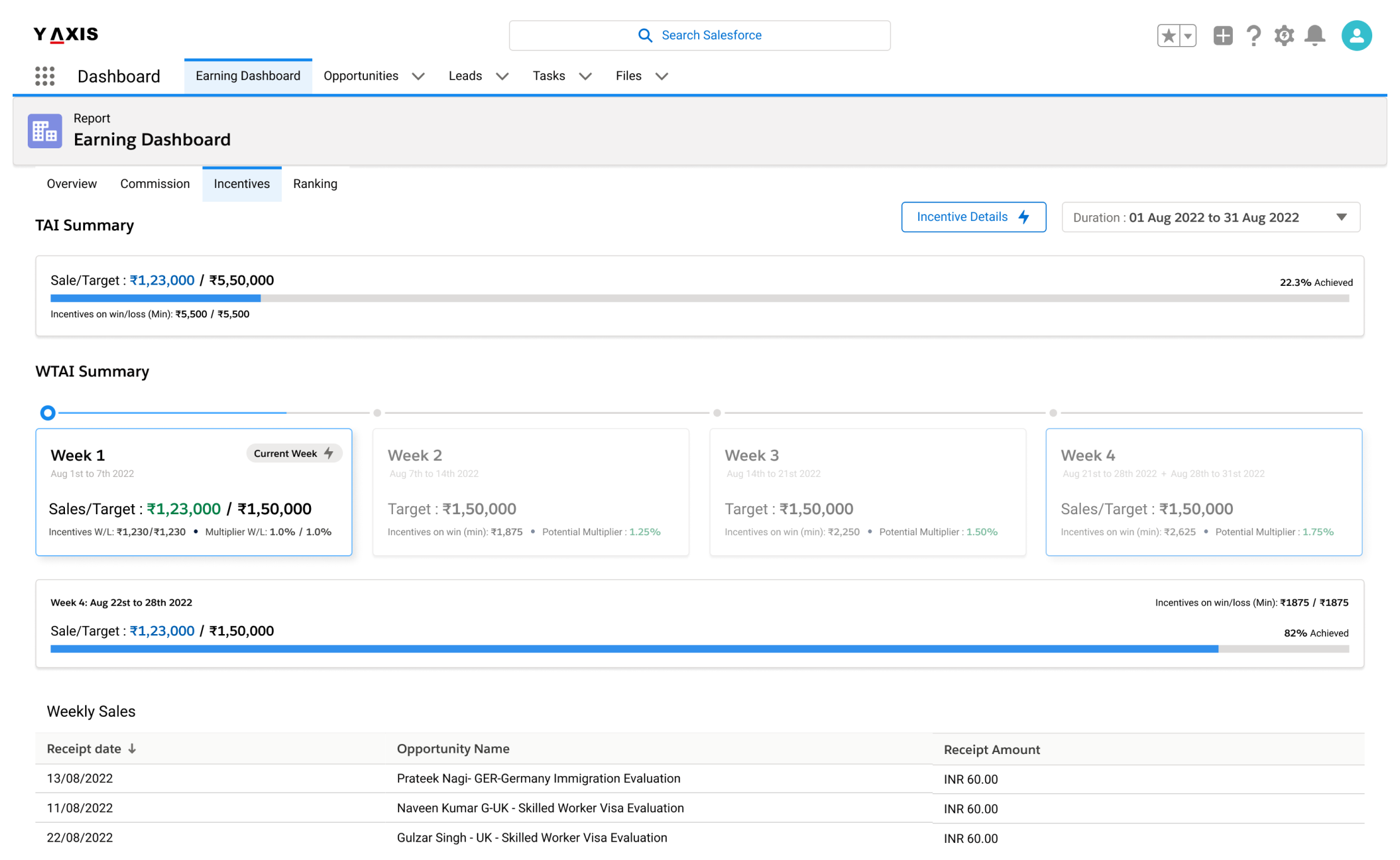 Commissions tab
Detailed commissions informations summarized here.
Sales / Success commission details
Commissions details table
Current month target tracker
Activate enhance MB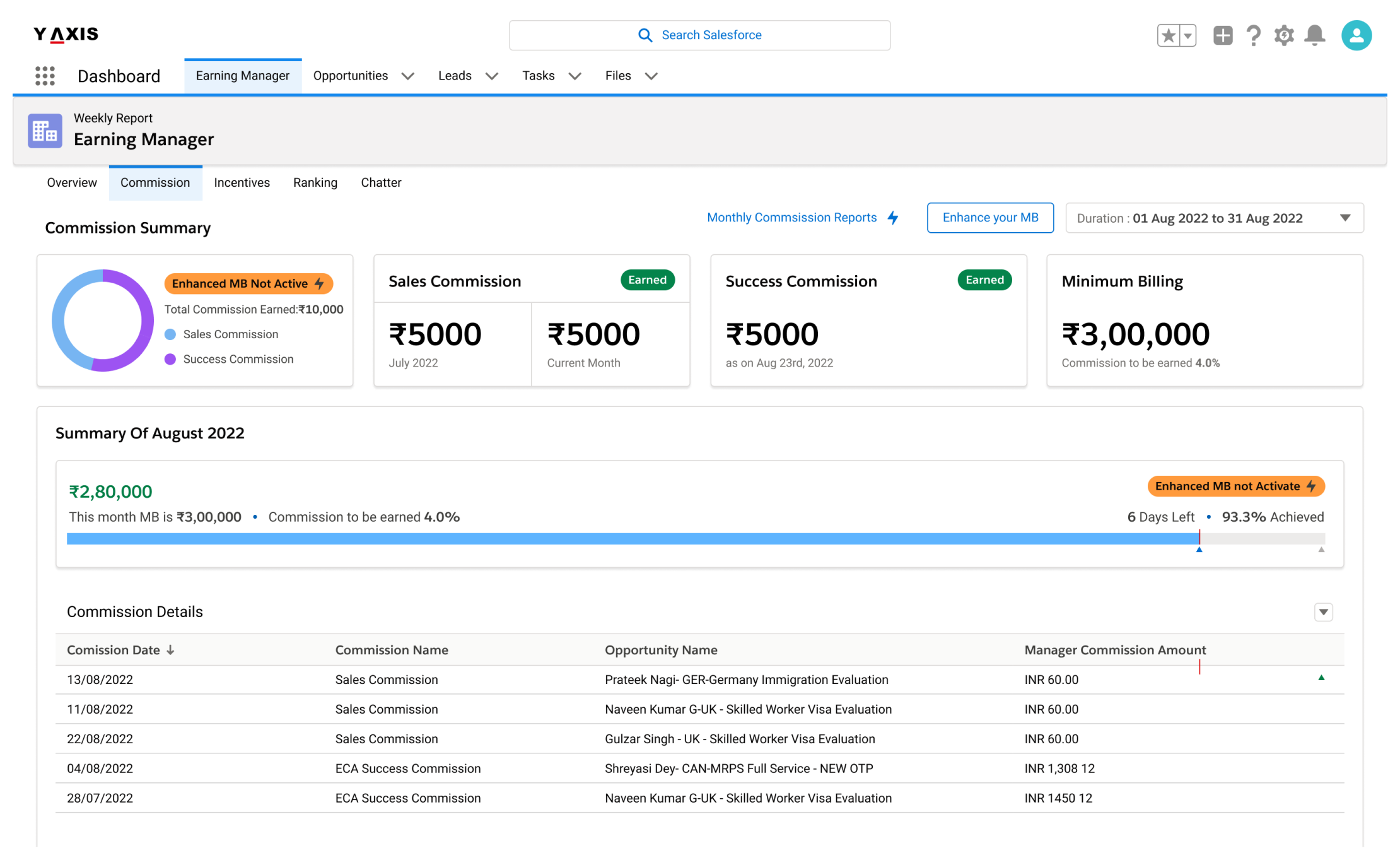 Ranking list
Accessible filters to view top 10/25/50/100 rank holders
Past rank / past reward trend graph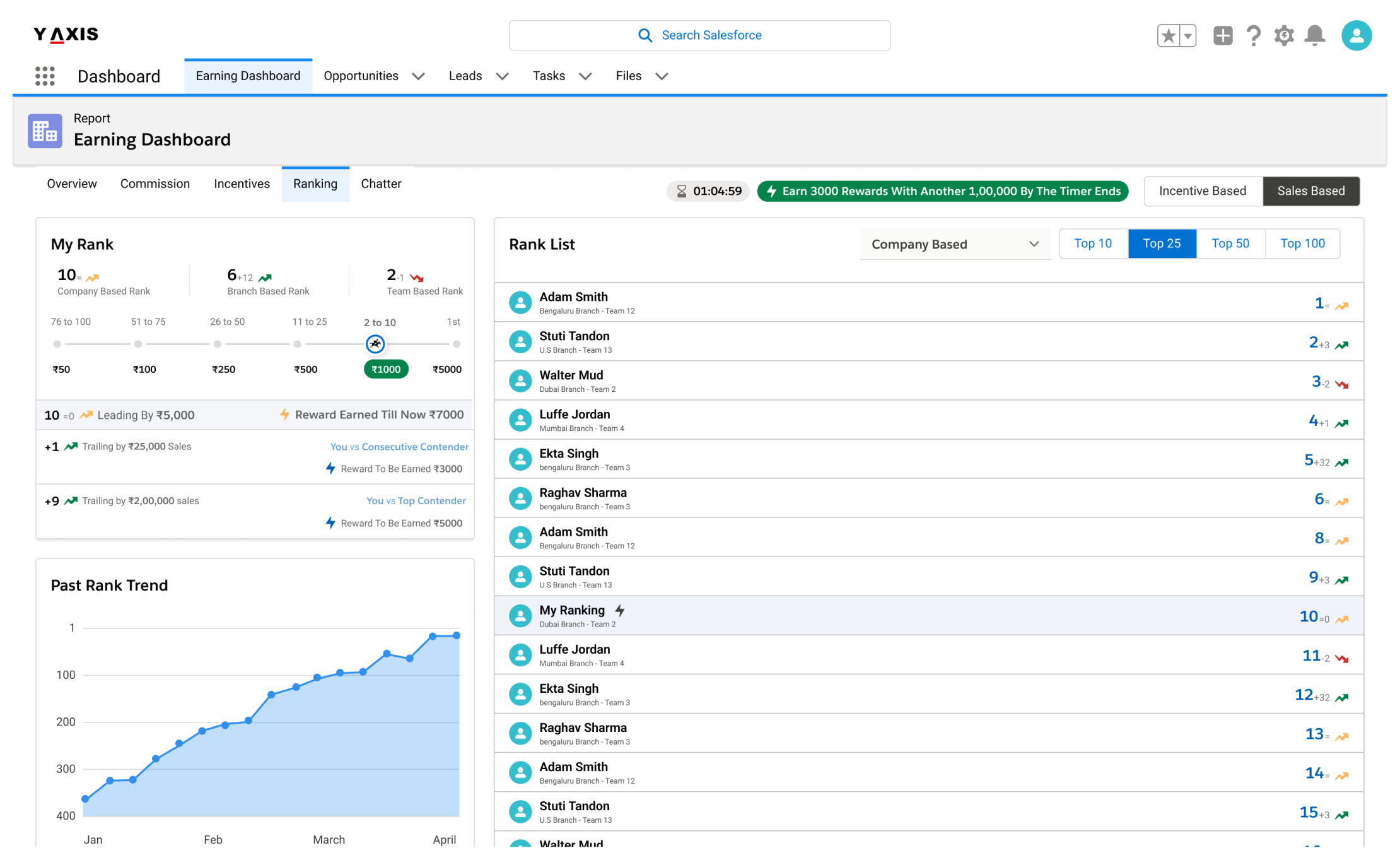 Monthly commissions report
Commissions report monthly wise
Label indicates enhanced MB active or not
Clear hierarchy helps easy to navigate
Impact
Build a scalable solution by applying Sales forece's lightning design system. Bring scalability and readability to the layouts to load more information. Keep it simple. so that, all personas can understand and navigate easily. Y-Axis may add more modules and features in the future. So, approach in a futuristic way.