Chitra (Portrait)/Gatha (Verse of a song)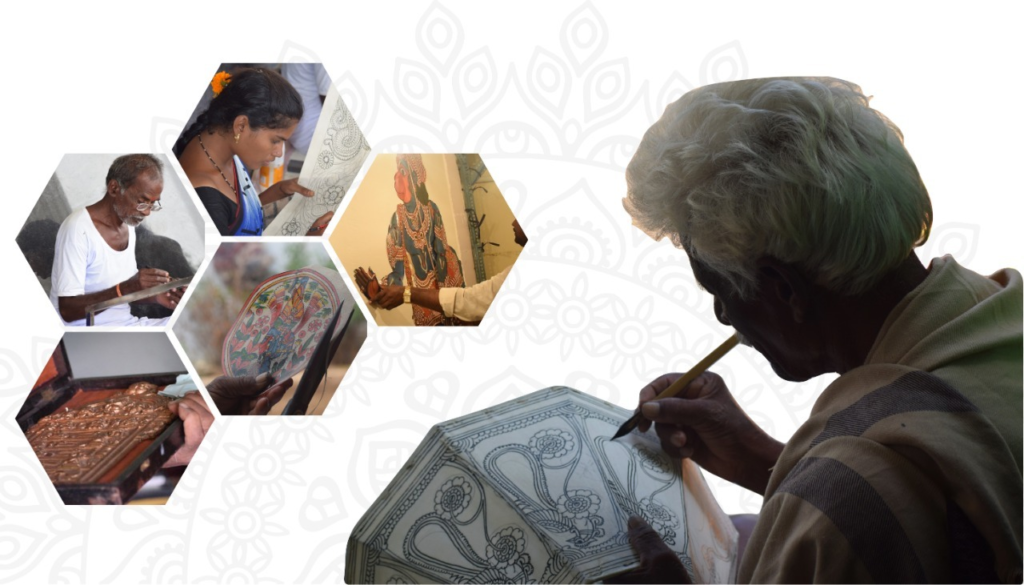 A Tale of Puppets
A lot of times I often wonder about what defines passion and living. I wonder if it's the calm, serene lifestyle that I should be living or the hushed, agile, bustling kind. The one where you constantly look forward to the next big thing or the one where you dwell on the past.
I come from the generation which is evidently choosing experiences over possessions, one that's hell-bent on challenging the societal grid which the earlier generations abide by. It's easy to get lost in all the buzz.
And that's why, there's nothing I cherish more than a gratifying experience that brings me back to the humble, uncomplicated reality that some people so gracefully live. I have often found myself losing sight of the very factors that define my living- as an experience; not as an involuntary activity. And once in a while when that feeling sets right back in, it opens up the clogged pores of the monotonous, urban life that I live.
As a middle-class single child brought up in dotting, yet nurturing environment, my parents have always made an effort to keep me aware of the world beyond our bubble. The last thing they would want is for me to be blissfully unaware and ignorant of the struggles that the less fortunate experience. Weekly discussions of the world's woes and debates on nuanced topics were always part of our routine. And as much as these were responsible for shaping the informed individual (I'd like to believe so) I am today, it's also fairly responsible for my rather pessimistic view of society.
And thus slowly, (through an amateur lens) I developed the generic mental image of what less money, lesser supplies, and insufficient access to quality education and quality life would look like.
This image was completely flipped and I was yanked back to a beautiful realization through a 5-day journey into the lives of the Tholu Bommalata artisans in the calm village of Nimmalakunta, Andhra Pradesh.
Today I want to talk about the wonderful people of Nimmalakunta, their heritage, and the surreal experience I had with them.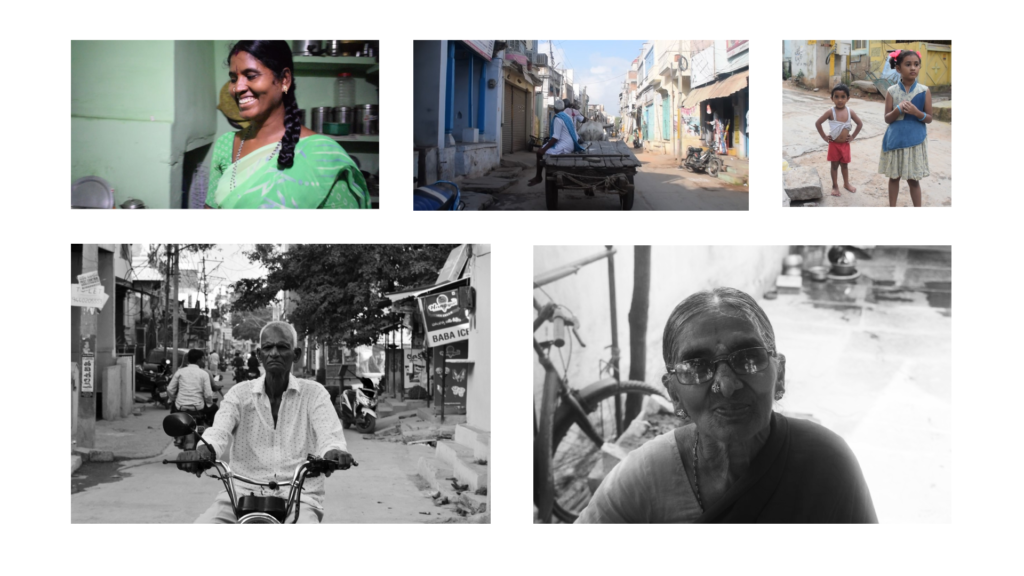 Tholu Bommalata is an age-old craft practiced by the artisans of Nimmalakunta. It's a small village in the Dharmavaram Mandal of Anantpur, Andhra Pradesh. This craft of Puppetry is practiced by all members of the community, age, and gender alike. Our class of 17-21 at NIFT Bengaluru was to conduct research on this art & the artisan community for our thesis project. We started out by doing secondary research beforehand and then finally we set on our journey to Nimmalakunta.
Now don't get me wrong, I love traveling. However, five days of walking and exploring in the middle of April Heat was not something I was explicitly looking forward to. We reached Dharmavaram in the middle of the day and reached our hotel in the six-seater autos. My team and I were delighted to hit the beds and call it a day, however, our professors soon chauffeured us out to go to the village of Nimmalakunta.
Day 1 in Nimmalakunta:
We reached the calm village of Nimmalakunta just in time to witness the beautiful sunset over the paddy fields on the way. Armed with our notepads, cameras, and questions, we entered the house of the senior-most artisan of the Nimmalakunta Village.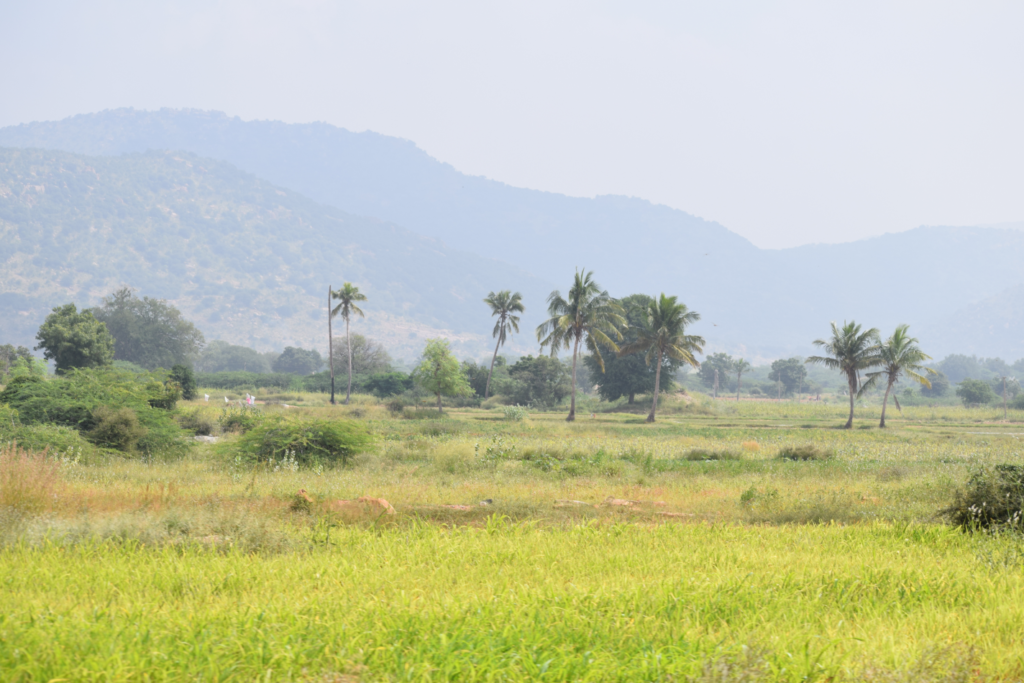 What struck me the most that day was the sheer amount of simplicity and warmth oozing out of the walls of the house. We sat around in circles as he whipped out the box of leather puppets and various other leather products for us to have a look at. I took out my camera almost mechanically and began directing my team to arrange them for a shoot.
That's when the artisan handed over a Ganesha leather puppet to me, and I placed my camera on the ground to observe the details of that puppet. The reason I remember this moment so clearly is because of the pang of guilt I felt when I realized the whole time that the artisan was explaining the products, I was mentally making notes of which ones would I take the perfect shots of.
We spent the rest of the evening sifting through the village and the people to draft a plan for the next 3 days and then went back to our hotel.
Day 2 & 3 in Nimmalakunta:
For the next two days, we started our days with scrumptious dosa from a nearby diner and then headed to Nimmalakunta. The artisans and their families let us into their homes and studios with no hesitation.
We learned about the leather tanning process, the names of the tools, the history of Tholu Bommalata, the detailing process, and other necessary pointers required to suffice our coursework. However that didn't give me enough motivation to write this blog, it was the time behind the scenes.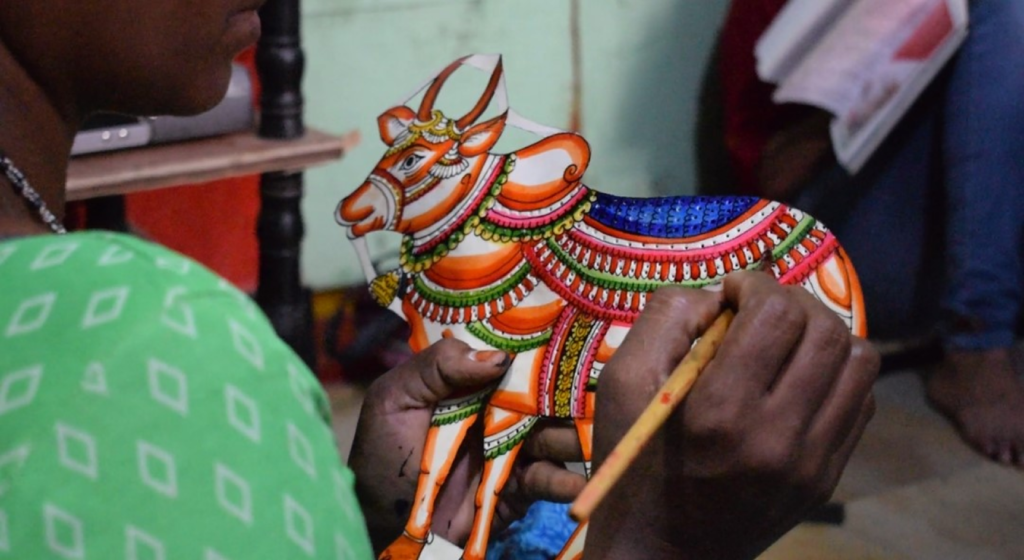 What amazed me most was the selfless way in which these artisans opened up their homes and hearts to a bunch of college students. The way artisans and their families let us shove our cameras into everything they were doing and answer 100s of questions in languages they did not understand. The meager compensation offered to them for their troubles certainly shouldn't have justified the chaos we brought to them.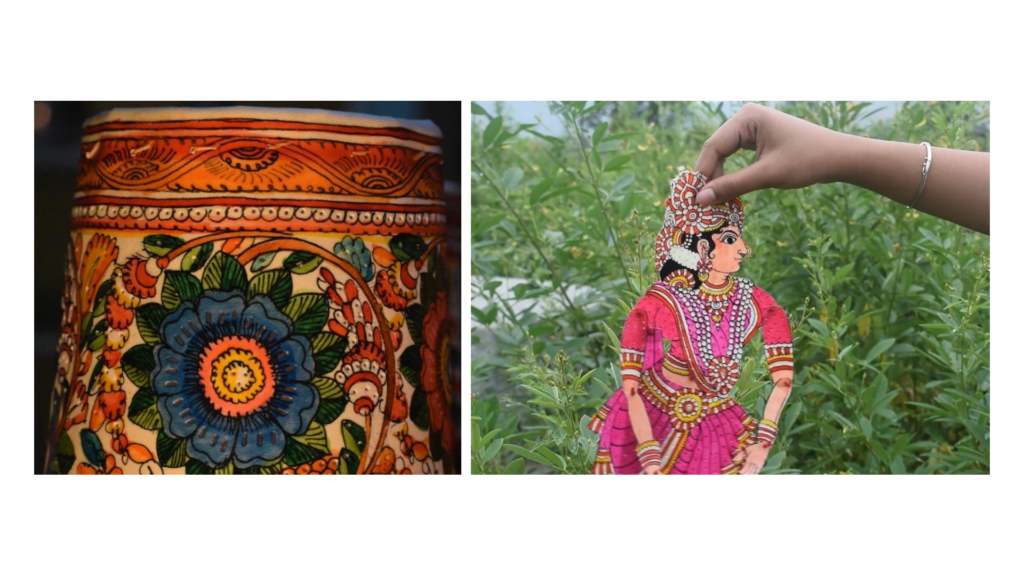 It was here that I discovered the artisans spoke a dialect formed by the amalgamation of equal parts Telugu and Marathi. I overheard a few Marathi words which made me pay attention to their conversation, which led to me talking with them in Marathi. The language barrier almost instantly disappeared! Turns out, this artisan community originated in Maharashtra and migrated to Andhra Pradesh close to 200 years ago. The most interesting part was that they were completely unaware of them still speaking part Marathi!
A national awardee, Sri. Sindhe Anjaneyulu let us film and interview him for over two hours, while his family prepared for us the most delicious meal ever. A simple curry with rice, bhajjis, sabzi, and crisps. We broke bread with them as they showered us with love and extra servings.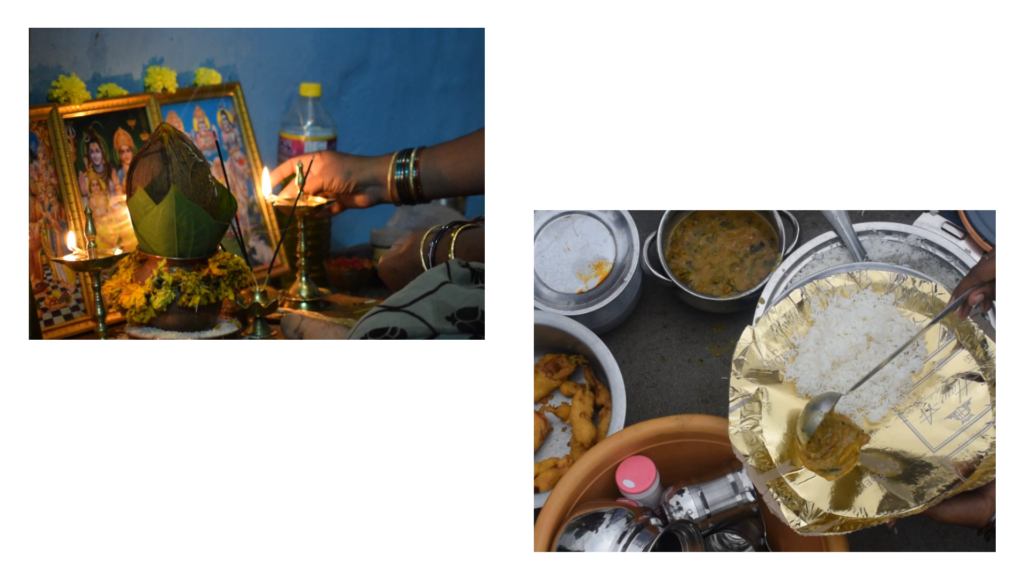 Day 4 in Nimmalakunta:
Finally came the day on which Sri. Anjaneyulu and his crew put on a leather puppet show for all of us. I filmed the backstage of this complete ordeal, and at multiple points, I had to force myself to focus on the camera in my hand instead of surrendering myself to the way the artisans did while performing their art.
They put together a beautiful show of Ramayana for us, and I witnessed all the magic going on behind the curtains. They hyped each other up, smiled, belted out ad-libs for each other's lines, their children scurrying around them with smaller instruments. One could see the passion flowing through their veins.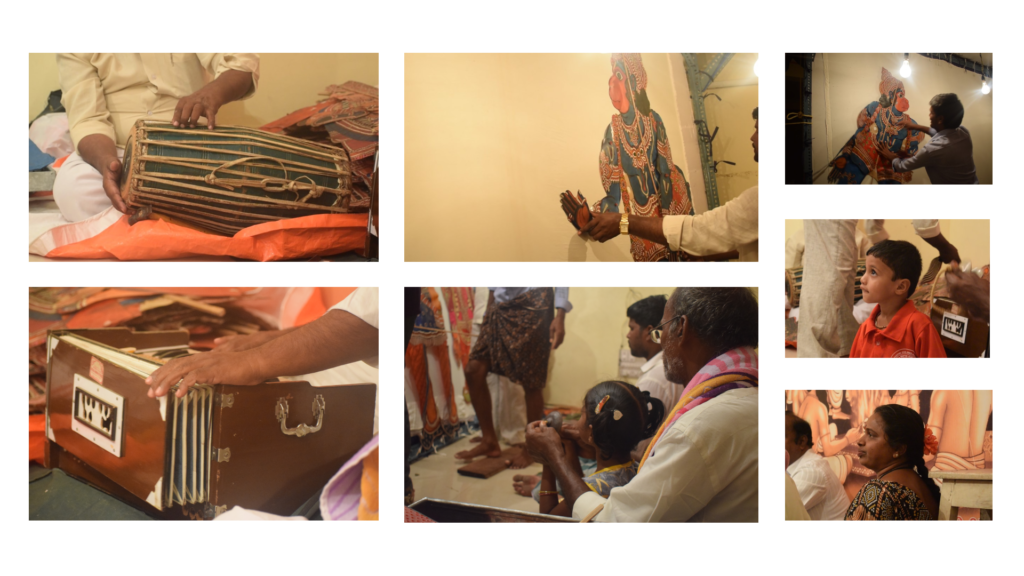 We thanked them for their efforts and troubles, and bid our goodbyes on the way back.
The simplicity and grace with which the residents of Nimmalkunta live their lives were so out worldly to me. They had a sense of purpose, calm, and peace like I'd never seen. Despite us asking multiple times about the dying art, lack of government aid, and recognition, they did not utter anything negative or bitter. Upon being asked if the craft pays sufficiently for their livelihood and wellbeing, they smiled and gave us a simple no.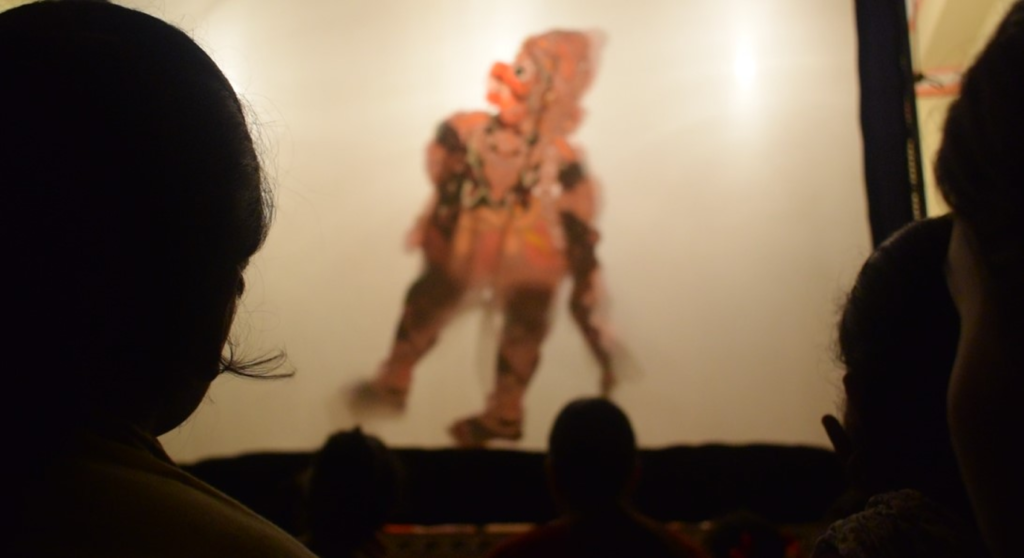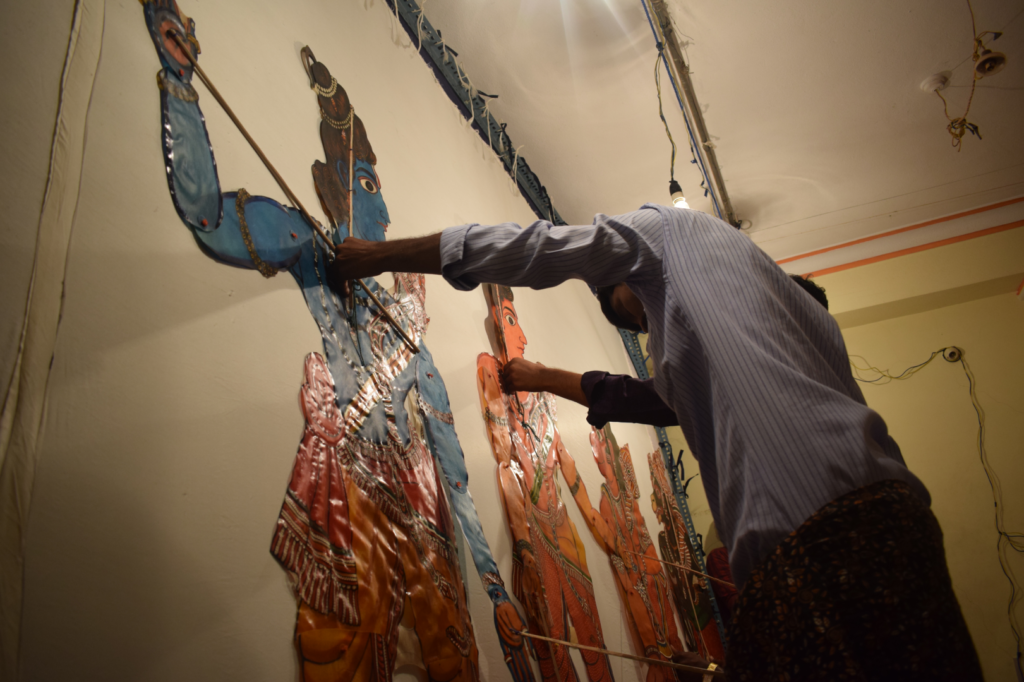 And at this point, I am not glorifying their struggle, that is not my intention at all. They deserve government aid and attention, more recognition, and most important of all – adequate income. But their approach towards life is such that anyone would get mesmerized.
May it be the cheerful owner of the 100-year-old hotel owner who recommended us local dishes, the families of artisans that brought us delightful snacks like boiled peanuts & edamame beans, or the artisans themselves who answered all our questions and didn't mind the uncalled intrusion into their lives for 3 days, all of them touched our heart and souls, and left us feeling mentally gratified.
We kept in touch with the artisans for a few months, while we developed our leather puppetry products, and to this day we exchange WhatsApp forwards on festivals and occasions.
I hope to visit and work on the welfare and celebration of the artisans and their craft at some point in the near future. That might be the topic of my next blog, till then- adios!
To the artisans of Nimmalakunta and Tholu Bommalata!